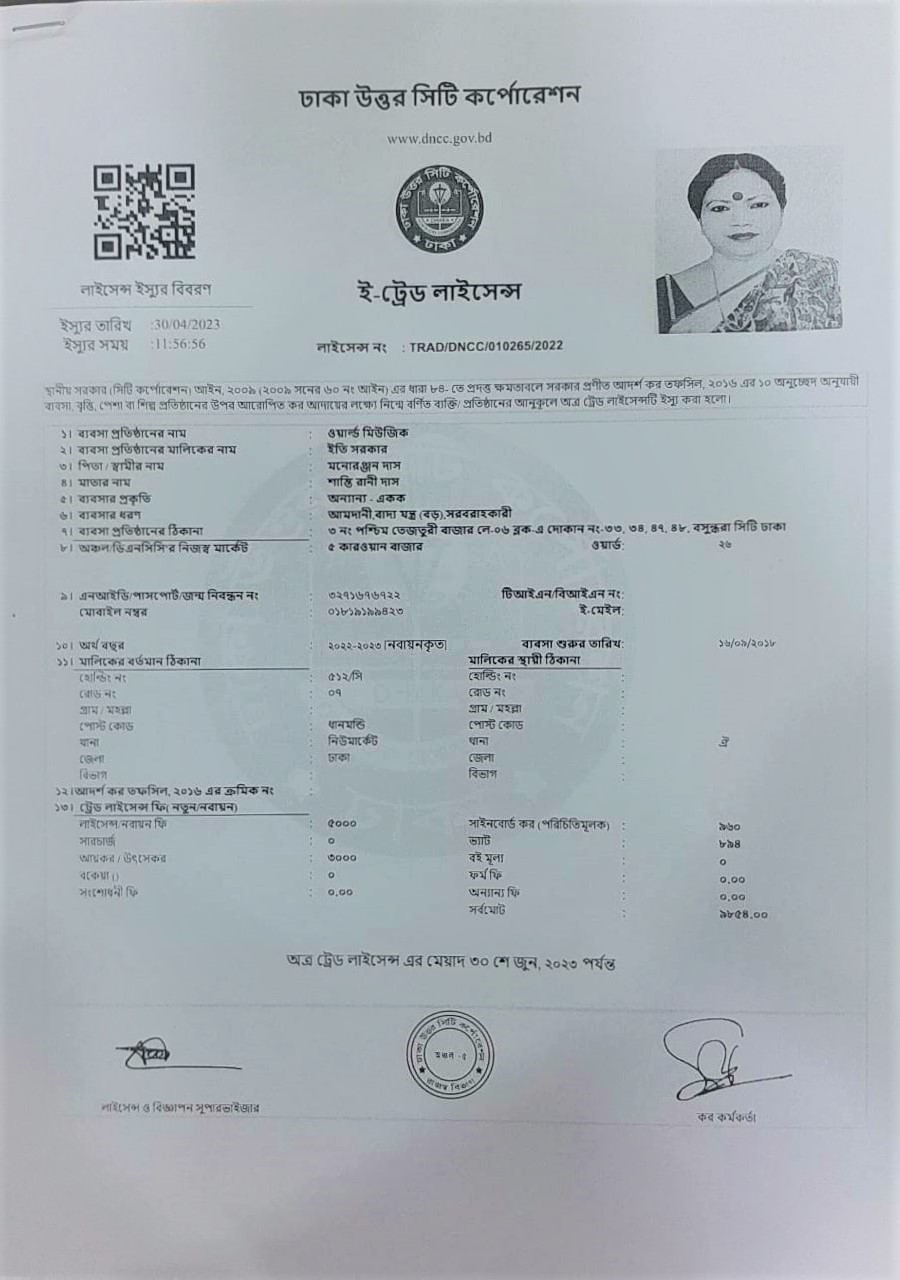 Hello, We are World Music.
World Music was established in 2005 by our Honorable Chairman, who is specialize in the distribution of only the best quality & original musical instruments and equipments, and to provide the best of services. .
With over 20 years of experience in the music industry, we know how important it is to have the best to suit your individual taste and needs. We have evolved from dealing in traditional acoustic instruments to modern state of the art hi-tech musical instruments & equipments.
We are the Manufacturer (Harmonium, Tabla, Guitar, Dhol), Importer, Retailer & General Order Supplier of Musical Instruments, Sound Systems, Conference Systems, Language Laboratory, DJ Systems, Home Entertainment Systems & Audio Studio Systems for Home / Professional Studio. We are holding Bangladeshi governments approved Trade License Number: TRAD/DNCC/010265/2022
Distributor for Blackstar Amps, Takamine Guitars, Chapman Guitars & Heilmann Pianos.
Dealer for Peavey, Jackson guitars, Charvel Guitars, Marshall, ESP/LTD Guitars, PRS Guitars, Godin Guitars, Fender, Squier, Pioneer DJ, Hartke, PreSonus, KRK, Arturia, Apogee, Jim Dunlop, Heilmann Piano, Pearl River Piano, Cerwin-Vega, Samson, Crest Audio, Seymour Duncan, Custom, MXR, Mooer, SE Electonics, Adam -Audio, Cherub & NUX…. …. ….
Our motto is to offer high quality products at affordable value. Customer service and satisfaction is also our top priority whereby we place heavy emphasis on after sales support. We are proud to stand behind the products & services we provide.
With one of the most extensive range of musical instruments and equipments in Bangladesh, we have something for everyone & giving our customers a totally enjoyable musical shopping experience. Your search for the right products start here ………. at World Music.
For more information on where to find us please Contact with us.
Learn More